As a part of our talent acquisition engagements, we ask our clients how they define "top talent" and how they would assess those traits in the interview process. Reflecting on the insightful comments we hear every day, we thought there would be great value in a new blog in which senior executives/thought leaders share their "Take on Talent."
This is the twenty-fifth in a series of blogs/interviews with senior executives who are thought leaders in the areas of Talent Acquisition, Career Development and Leadership who will share their perspectives on this ever present question.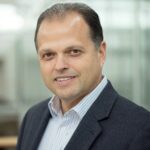 Mike Ettling is a CEO, Investor, builder of world-class teams, champion of diversity and continuous learner, and is passionate about people. From his first leadership role in the Boy Scouts, to exec positions in the tech industry, his career has revolved around elevating, engaging and enabling people.Mike joined Unit4 to get the market as excited in its unique approach to enterprise tech as he is. Unit4 is focused on building systems that change how people experience work. We're building systems that change how people experience work, and the impact in the future will be huge. Outside of work Mike is a family man, a Liverpool supporter, and a proud South African.
Please share with us the top five characteristics (in priority order, first to fifth) of the most talented people you have encountered during your career, and your definition of each.
Purpose-led
I think a sense of purpose defines the most talented people. It's like having the wind behind you instead of in front of you. The question leaders must ask themselves is: How do you create a sense of purpose in a way that's meaningful for the individual and the team? First, you have to be clear on your sense of purpose. What is it you want to do in life? Think about those defining moments that made you who you are and show you what's important. How does that translate to your business goals and leading people towards a collective intent?
People-first
I believe it's People Experience that determines success in any endeavor. If we adopt this approach, it transforms how work gets done so that people can give their best. A true people-centric mindset is one that organizations adopt from the top to the bottom of their workforce to encourage real purpose. A solid culture must be rooted in people-centricity, it must make employees feel valued, give workers great technology, integrate workers directly into important decisions and support them to achieve their full potential.
Ego-less
The best people I've worked with don't have egos. They are authentic, which makes people believe in them and trust them. They don't talk in business jargon but speak like a human being. It's also essential not to fear failure – as long as you learn from it. Nobody's perfect, so why pretend we are? This creates an environment where people feel they can be themselves, and that's when they deliver their best.
Authentic
The best leaders are the ones who can really be authentic, that take their heart out and put it on their sleeve. People need to see that. The more you do that, the more you engage people and the more people will trust and follow you.
Humble
The best leaders are the ones who are shaped by a significant experience or two that touched them to their core. I learned early in life, growing up in apartheid South Africa, that every person has worth, and the importance of protecting each other regardless of our differences. It's people that fuel business success, so being humble and compassionate goes a long way.
How do you communicate these characteristics to your HR and senior management team?
I try to communicate these characteristics in every interaction I have with my team by amplifying them myself. I constantly ask myself, how do I start creating a sense of purpose in everyone, so that they want to excel. And this begins at interviews – that purpose is emphasized throughout the recruitment process and on-boarding. My advice to leaders is always the importance of authenticity. There is no room for egos in business. People need to see that we, the leadership team, are passionate about that purpose in order to trust and to really believe in it.
When I joined Unit4 over a year ago, one of the first things I did was to bring some of our high potentials into our leadership team meetings to encourage diversity of ideas and thinking. I also established an extended leadership team which meets regularly, and we invest in really great guest speakers and leaders that have a higher sense of purpose to give us all advice to learn from.
Throughout my career, I have been fortunate to work and associate with many talented leaders and was humbled that many of them, from various historic chapters were willing to follow me to Unit4. That really means a lot. We have a world class cloud leadership team who constantly engages with each other, and most importantly has a tremendous sense of humor.
How do you handle challenges to the existing culture by talent you have brought in?
Part of my job as CEO is to align culture, leadership and technology in a way that allows my employees to be themselves and spread their wings. Only then can we deliver excellence to our clients.
We've ensured a true people-centric mindset in everything we do, that has been adopted from the top to the bottom of the workforce. It helps to ensure that we attract people with the same vision and values. This is the main focus for our Chief People Officer. We've launched a work/life balance policy so people can take as much leave as they want; we have promoted new values within the business; we have a new recognition program called Kudos4U, in just the last year. There are too many initiatives to include here, but the point is that we're showing people that we live our values which is critical to a purpose led organization.
One of the first things I ask interviewees is about what's shaped them as a leader. It is those that can identify the three or four things that have given them purpose in their career that interest me. I'd rather someone wasn't perfect because then I know they're authentic and people will like them.
If talent I've brought in isn't on board with the culture or purpose, then I'm fundamentally doing something wrong. I would never advise someone to stay in an environment where they are unhappy or one that goes against their values. The managers and leaders I work with are encouraged to be themselves, which makes them authentic and excited about the journey we're on together. We are also always learning together. Often, success is determined more by our ability to adapt and change our approach than by what happened yesterday. Leaders should always be open to new ideas, new concepts, and new people. Leaders that fail to get this right will never truly be successful.