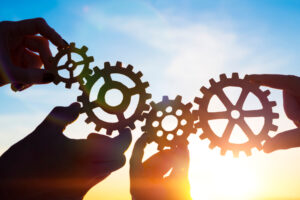 by Deborah Grayson Riegel
Over a breakfast of lattes and pumpkin muffins at my local coffee shop, a colleague and I reflected on how weird it felt to be meeting people in person post-Covid. We discussed the awkwardness of handshakes versus fist bumps, whether to sit inside or outside, and what to say or do when someone coughs and you want to run away.
Then we turned to the subject of networking.
"My consulting business really suffered during the pandemic," he shared. "And it hasn't really bounced back. I might need to get a job, in which case I may have to start really networking again."
"I hear you," I said, with empathy.
"How about you?" he asked. "Will you start networking again now that it's safe to leave the house?"
"Actually," I said, "I never stopped."
He paused, seeming confused, and then asked me a question that took me by surprise. "If you've got plenty of clients, and you're not looking for a new job, then why are you still networking?"
I took a moment to consider his inquiry. Certainly, I could have coffee and baked goods at home, so that wasn't the reason. I wasn't trying to fill up my day so I wouldn't be bored or lonely. I definitely wasn't looking for a new job. So why was I still actively networking? Why had I never stopped? (more…)