As a part of our talent acquisition engagements, we ask our clients how they define "top talent" and how they would assess those traits in the interview process.  Reflecting on the insightful comments we hear every day, we thought there would be great value in a new blog in which senior executives/thought leaders share their "Take on Talent."
This is the thirteenth in a series of blogs/interviews with senior executives who are thought leaders in the areas of Talent Acquisition, Career Development and Leadership who will share their perspectives on this ever present question.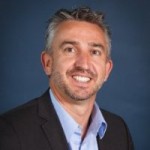 Steve Rudderham, Vice President, Global Business Services,  Kellogg Company
Steve Rudderham join Kellogg in 2016 as Vice President, Global Business Services. In this role, he is responsible for leading the current operations within GBS, continuous improvement, and global expansion. As well as the day to day operations, Steve is responsible for understanding industry trends, bench-marking against peer companies, and developing programs and projects that drive significant improvements in cost, process quality, and service delivery for multiple functions and global markets. He is also required to identify and leverage best practices, and standardize processes, policies, and practices to deliver significant improvements and savings in line with committed business cases and budgets.
He has 20 years of global experience across Business Process Outsourcing, Insurance and Lighting. He also has a broad operational background having led teams on the ground in the United States, Europe, Latin America, and India. Continue reading →