As a part of our talent acquisition engagements, we ask our clients how they define "top talent" and how they would assess those traits in the interview process. Reflecting on the insightful comments we hear every day, we thought there would be great value in a new blog in which senior executives/thought leaders share their "Take on Talent."
This is the twenty-fifth in a series of blogs/interviews with senior executives who are thought leaders in the areas of Talent Acquisition, Career Development and Leadership who will share their perspectives on this ever present question.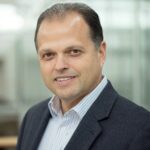 Mike Ettling is a CEO, Investor, builder of world-class teams, champion of diversity and continuous learner, and is passionate about people. From his first leadership role in the Boy Scouts, to exec positions in the tech industry, his career has revolved around elevating, engaging and enabling people.Mike joined Unit4 to get the market as excited in its unique approach to enterprise tech as he is. Unit4 is focused on building systems that change how people experience work. We're building systems that change how people experience work, and the impact in the future will be huge. Outside of work Mike is a family man, a Liverpool supporter, and a proud South African.
Please share with us the top five characteristics (in priority order, first to fifth) of the most talented people you have encountered during your career, and your definition of each.
Purpose-led
I think a sense of purpose defines the most talented people. It's like having the wind behind you instead of in front of you. The question leaders must ask themselves is: How do you create a sense of purpose in a way that's meaningful for the individual and the team? First, you have to be clear on your sense of purpose. What is it you want to do in life? Think about those defining moments that made you who you are and show you what's important. How does that translate to your business goals and leading people towards a collective intent?