As a part of our talent acquisition engagements, we ask our clients how they define "top talent" and how they would assess those traits in the interview process. Reflecting on the insightful comments we hear every day, we thought there would be great value in a new blog in which senior executives/thought leaders share their "Take on Talent."
This is the thirtieth in a series of blogs/interviews with senior executives who are thought leaders in the areas of Talent Acquisition, Career Development and Leadership who will share their perspectives on this ever present question.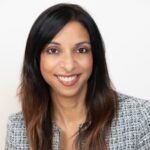 Mita Gupta
Mita is Senior Vice President at Globality, a venture-backed technology company which is the world's only AI-powered marketplace for the buying of enterprise services.  With 20+ years of experience, Mita is an executive focused on building and expanding high-growth, global B2B companies.  She was previously the Global Vice President at GEP, leading growth strategy and vision, business development and solution design across key global and emerging markets including the US, EMEA and APAC. As part of the senior leadership team that generated the highest and most consistent growth rate in the procurement services and technology industry, she also served as the Executive Sponsor for many key client relationships across the Fortune 500/Global 2000.  Prior to GEP, Mita was part of the founding team at Procurian (acquired by Accenture), a provider of procurement business process services to Fortune 1000 companies, and she was a management consultant with Kearney.
Please share with us the top five characteristics (in priority order, first to fifth) of the most talented people you have encountered during your career, and your definition of each. The following are examples, please add or modify as you see fit.           
Passion
This is the key characteristic I seek in team members to help drive high growth businesses.  Passion fosters enthusiasm, passion fosters curiosity, passion fosters innovation, passion fosters commitment, passion fosters effective team building and passion fosters fun.
Integrity
Integrity is essential – individuals who will do what's best for the business and for their people will enhance long-term loyalty, from customers as well as employees.
Competence
It goes without saying that being competent in one's relevant role, industry or function is critical for success.  Beyond the technical competence, it also speaks to the ability to think broadly and creatively around a problem and how to solve it.
Articulate Communicator
I highly value an articulate communicator who can thoughtfully and effectively deliver messages to our organization and/or relay our value to our prospects and clients.
Visionary
Vision provides focus, motivation, and direction to move through change and obstacles. Good leaders have a clear vision and are able to articulate the path forward to their team.  Leaders who can do this help employees understand and align their work strategically and engage with their work more meaningfully.
How do you communicate these characteristics to your HR and senior management team?
The key characteristics described above are typically derived from the critical elements needed to drive functional excellence and overall company success, in addition, to fostering the company's core values.  If we hire the right people, we will foster a culture that drives superior performance but also ensures we have a collective employee base that values and embraces the company culture.  Ultimately, the best way to convey these characteristics is to "just do it".  Work with your HR business partners to find and hire the best and drive excellent performance.  Not every hire will be the best-fit, and for those that are not, it's also important to learn quickly, make swift decisions and continue to build a team that thrives.
How do you handle challenges to the existing culture by talent you have brought in?
Maintaining the established culture in a high growth, diverse environment, is a continuously evolving initiative.  Staying true to the core values is foundational to our business and becomes the north star in being able to handle challenges/changes to the culture, while keeping an open mind about how to continue to improve.  There can be additive improvements to culture over time, and it's important to ensure individuals can be their authentic selves for the organization to identify and implement those improvements.  Furthermore, having a strong leadership team, who consistently "lives the culture" and advocates for it globally, is key to ensuring a strong, healthy, and enduring culture.