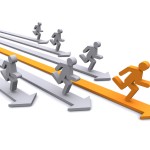 by Kate Cooper
Running an organization is not like running a car, though some think it is. Mechanical analogies are all too common: 'well oiled-machine'; 'running like clockwork'; the 'nuts and bolts' of the organization. Anyone would think that companies were made of screws and lugs, not people.
The decades-long pursuit of efficiency gains has led many to regard organizations as robotic production lines. The hope is that each passing day sees the apparatus churn out slightly more than the previous 24 hours.
But the 'organization-as-a-machine' model has been found out. It wasn't modern efficiency theory that helped companies negotiate the coronacrisis. It was the antithesis of the robotic doctrine of 'the same but faster'. It was the creativity and imagination of people.
In an article for the Chief Executive Group, George Mason University's Professor Saurabh Mishra warns of a dark side to the quest for operational efficiency.
"[…] efficiency leads to a routinization of processes and necessitates a focus on constant, but incremental, improvements in operations," Mishra writes. "As a result, efficient organizations often have few resources left for managers to react to dynamic business conditions or to formulate innovations that build new markets." Continue reading →