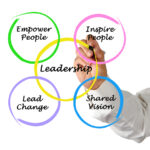 BY GWEN MORAN
If you're planning on watching the show, proceed with caution—there are spoilers ahead. 
One of the occupational hazards of writing about leadership for more than a decade is that you start to see lessons all around you and ascribe meaning to the actions of others. Sometimes those "others" include the main characters of eponymous television shows. Apple TV's
Ted Lasso
 is like a cheat sheet for being a good leader.
Good buzz about the show, starring Jason Sudeikis as an American football coach in London, resulted in the streaming service's biggest premiere viewership to date, and a six-fold audience increase, according to a report in Variety. While the streaming service isn't releasing hard audience data, it's clear that the series is gaining traction. The show also racked up 20 Emmy nominations, including four in the Best Supporting Actor category.
Ask fans why they (we) love the show, and you'll hear a familiar refrain: It's a bright spot in a painful world. The writing is sharp and manages to be optimistic, wise, and hilarious without being cloying. Each of the characters has flaws and weaknesses that keep them from becoming caricatures. In a recent episode that paid homage to romantic comedies (funnier and cleverer than it sounds), the Lasso declared, "I believe in 'rom-communism'"—the philosophy that everything will work out in the end, even if it's not the way you think it would. These days, that can be hard to believe. Therein lies some of the show's appeal.
And if you're looking for examples of how leaders behave—or should—Ted Lasso is fertile ground. Here are five times Lasso and his cohorts reminded us of the way leaders should act: