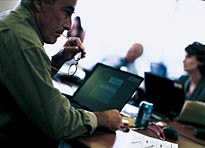 by Amy Bonsall
Meetings are broken. Something happened when work moved online in 2020 and opening up the office hasn't fixed it. Every interaction with colleagues became a video call, and our days became a game of transactional Tetris: Where can I slot in this or that meeting? Now, with policies directing which days of the week to be where, the Tetris has gotten more complex.
In my work helping distributed and hybrid organizations flourish, I see employees commuting only to spend time in near-empty offices or on calls. It feels less like flexibility than a new constraint, and it's not building the relationships we intended. It's the worst of both worlds.
There is a better way. Instead of focusing on when and where we meet, we ought to start with why we're coming together and let that dictate logistics. When I'm asked to help rebuild relationships and strengthen complex collaboration, I begin with foundational advice: The new work calendar isn't about office or home, it's about three gathering types and the conditions that serve them best.
Three Types of Gatherings
Why do I call them gatherings and not meetings? Names signal purpose. Meeting has a strong connotation, suggesting people around a conference table (or the online equivalent) and a tight agenda. Gatherings offer multiple purposes and release the idea that we must conduct a time-stamped march to check things off lists. Continue reading →