As a part of our talent acquisition engagements, we ask our clients how they define "top talent" and how they would assess those traits in the interview process. Reflecting on the insightful comments we hear every day, we thought there would be great value in a new blog in which senior executives/thought leaders share their "Take on Talent."
This is the sixteenth in a series of blogs/interviews with senior executives who are thought leaders in the areas of Talent Acquisition, Career Development and Leadership who will share their perspectives on this ever present question.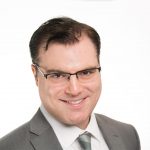 Phil Fersht is the CEO and Chief Analyst, HfS Research
Phil is an acclaimed author, analyst, and visionary in IT Services and BPO, the Digital Transformation of enterprise operations and cognitive automation strategies. Fersht coined the terms "The As-a-Service Economy" and "Digital OneOffice", which describe HfS Research's vision for the future of global operations and the impact of cognitive automation and disruptive digital business models. Phil was named Analyst of the Year in 2016 (see link) for the third time by the Institute of Industry Analyst Relations, which voted on 170 other leading IT industry analysts.
Prior to founding HfS in 2010, Phil has held various analyst roles for Gartner (AMR) and IDC and was BPO Marketplace leader for Deloitte Consulting across the United States, UK, and Singapore.  Over the past 20 years, Fersht has lived and worked in Europe, North-America, and Asia, where he has advised on hundreds of operations strategy, outsourcing, and global business services engagements.
Phil is also the author and creator of the most widely-read and acclaimed blog in the global services industry, entitled "Horses for Sources" now entering its eleventh year.  He regularly contributes to media such as Wall St Journal, Business Week, Economist, The Times of India and CIO Magazine and is a regular keynote speaker at major industry events, such as NASSCOM, ANDI, ABSL, Global Sourcing Association, SSON, Sourcing Interests Group and HfS Summits.
He received a Bachelor of Science, with Honors, in European Business and Technology from Coventry University, UK and a Diplôme Universitaire de Technologie in Business and Technology from the University of Grenoble, France. He also has a diploma from the Market Research Society in the UK.
Please share with us the top characteristics of the most talented people you have encountered during your career, and your definition of each. Continue reading →