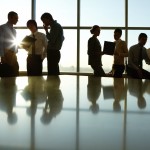 By Sadie Williamson
For any company, success is largely dependent on how well workers perform. I've long since learned that employees who perform the best are almost always those who are most engaged with their projects and teams. But you might be surprised to find out that one of the biggest contributing factors to the motivation and good feeling of an employee is often their relationship with their manager.
In a study by the OC Tanner Institute, 37 percent of employees reported recognition from management as by far the most important factor for employee motivation. A similar study found that 79 percent of people who quit their jobs do so because they don't feel appreciated.
The most successful managers understand their responsibility for employee engagement and recognize how good employee relations contribute to a flourishing company.
Unfortunately, evidence also shows that companies are not taking steps to equip their managers to handle the softer aspects of the role. A CareerBuilder survey found that 58 percent of managers reported receiving no training for their current position. While there is no instruction manual or rule book on managing and leading people, my time in the corporate world has taught me that there are steps that you can take to navigate this complicated responsibility. Continue reading →