by Kaitlin Woolley and Ayelet Fishbach
When interviewing for your next job, how can you impress your recruiter and increase your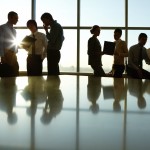 chances of securing a job offer? Of course you may wish to emphasize your ambitions and goals you hope to achieve as a result of working at the company — your extrinsic motivation for the job. But to what extent should you also emphasize your love for your work and what you hope to achieve as part of the process of working at the company? This comprises your intrinsic motivation for the job, and most of us understand how important it can be to sustained engagement at work; but do recruiters care to hear this?
Our research suggests that they do — and that job applicants aren't taking advantage of that. Indeed, we have found that people fail to predict the power of such a statement of intrinsic motivation on the impression they make.
To examine this prediction problem — the discrepancy between what candidates think will impress recruiters and what recruiters actually find impressive — we surveyed 1428 full-time employees and MBA students across five studies. Some provided their predictions, guessing what recruiters would find impressive when hiring a job candidate. Others told us what they actually valued when making hiring decisions.