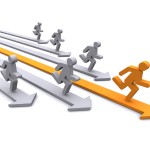 by Martin Gargiulo

Your performance is dependent on the type of network you have.
Working for investment banks is not for the faint of heart. Workweeks of 100+ hours involving all-night sessions and meals at desks in order to complete heavy loads of difficult work have long been the lot of this industry's professionals.
To thrive and not merely survive, however, junior investment bankers have to earn the trust and respect of colleagues and clients if they are to be given the chance to trade important stocks or to have their own customers.
A strong support network is vital in helping junior employees excel at their work and curb the risks of making mistakes as they learn on the job in a fast-moving business environment. The importance of this network is apparent in the career advice of a former head of proprietary trading at Bank of America Merrill Lynch: "Ask every single other person on the planet for help before you go back to your manager."
In my paper "Homophily and Individual Performance", published in Organization Science, co-authored with Charles Galunic of INSEAD and Gokhan Ertug and Tengjian Zou of SMU, we find that building a support network of people like you can enhance your performance in such an environment.