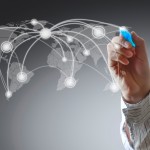 by David Dubois, INSEAD Associate Professor of Marketing, and Joanna Teoh, INSEAD
Five golden rules to effectively balance personalisation and customer protection.
From AI-enabled chatbots to ads based on individuals' search or social media activities, digital data offer novel ways to connect with customers. These connections can develop into intimate customer relationships that boost satisfaction, engagement and ultimately loyalty. Consider Netflix's recent personalisation strategy, which enabled viewers of its series Bandersnatch to choose the main character's actions throughout the episode, leading to five unique endings.
But there is a point where customer intimacy and invasion of privacy blurs. For instance, as early as 2012, Target predicted a teenage customer's pregnancy through her historical purchase pattern data and sent her baby-related coupons, to the surprise of her own parents.
Where to draw the line between customer-benefitting personalisation and intrusion? This question is increasingly at the heart of every C-level executive's agenda. In the digital age where data has become overabundant – 90 percent of the world's data was produced in the last two years – corporations face the urgent need for a "data chart" defining their philosophy around the collection and use of customer data as it relates to value creation. Continue reading →