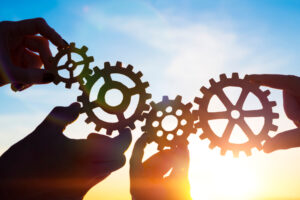 By Michael Mankins, Eric Garton, and Dan Schwartz
The post-pandemic job market has proved vexing for many employers. Starting in mid-2021, a record number of workers quit their jobs, providing evidence for what many were already calling "The Great Resignation." Companies scrambled to retain workers and cope with critical labor shortages. In their haste to respond, however, many firms pursued strategies that employees did not value and that had little impact on employee retention. The result: Even in today's contracting economies, quit rates have remained at historically high levels.
We're not surprised by the poor results. Research indicates that the primary driver of today's high attrition rates is the growing disenchantment most employees feel toward work. Increasingly, work is seen as purposeless, having little value or meaning to employees. The push for greater efficiency and standardization has left many workers jaded, bored in their jobs, disconnected from coworkers, and not particularly loyal to their employers.
The failure of most employee retention strategies stems from a fundamental misunderstanding of what motivates most of us to work—namely, engagement in the work that we do (see Figure 1). Sure, we want the basics. We want to feel safe in the workplace, have the resources we need to be productive, be rewarded fairly, and have some flexibility in where, when, and how we do our jobs. But these are merely "qualifiers." They can make the difference between employees being satisfied or dissatisfied, but they are not enough to create high levels of engagement, loyalty, and retention.
The failed ground and air wars for talent
In the aftermath of Covid-19, many companies are fighting "the ground war" for talent. They are boosting pay, offering greater flexibility, and modifying other "qualifiers" to retain their best people. In most cases, these tactics haven't done much to move the needle on worker attrition. Why? These moves are undifferentiated and easily matched. Any company can change its pay structure, work-from-home policies, and other qualifiers in response to tight labor markets. But so, too, can its competitors. Any gains are fleeting.
A recent Harris Poll survey indicates that 20% of employees who left their jobs in 2021 for better pay and/or greater flexibility now regret their decision. Many report that they plan to leave their new job and return to their prior employer or find another job. So far, the ground war has produced a swirl of employees moving from one company to another, but it hasn't had much impact on aggregate quit rates. These tactics have done little more than cast "the great resignation" as "the great reshuffling." Continue reading →