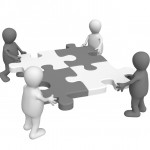 The Software Developer III is an architect level position for developers who possess demonstrable experience and skill, having worked for an extended interval as a professional software developer, on production-level software products.
This position, the individual is responsible for the technical design, coding, testing, debugging and documentation of complicated software components.  The individual is expected to use best practices; adhering with coding standards & conventions, under the direction of the Software Development Team Lead or Manager.   Individuals within this position will be assigned software development projects of with loosely defined scope and size, with the expectation that they identify and define parameters and deliverable milestones for the project.
Responsibilities
This position requires individuals who are able and willing to take responsibility for complicated projects with tight deadlines and high qualitative expectations, with a reasonable degree of creativity and latitude.
Develop detailed technical designs as assigned, based on requirements and/or functional designs.
Produce software components, interfaces, classes, functions, web-pages, etc., as necessary in order to faithfully implement designs, as assigned.
Create complete and accurate documentation, both within the code being created, and externally as input to the documentation team, or in the form of technical white-papers or other publications.
Test and debug software to ensure correct behavior, including unit- and regression-test production and maintenance, where appropriate.
Complete assigned software projects on time and within budget.
Mentor junior staff members.
Break projects down into logical components that can be worked on by other staff.
Work with team leads and managers to facilitate progress and identify blockers to achieving milestones.
Adhere with all policies and procedures applicable to the position, department, division and larger organization.
Individuals within this position will work directly with our clients on software development projects of moderate size and scope
Complex debugging of client issues requiring development assistance.
Education & Qualifications
Bachelor's degree in computer science or related field.  A combination of education and experience may be substituted.
8 years or more professional experience, working with production (preferably, enterprise-level) software products.
Highly proficient in either Java or .NET.  Both preferred, but not required.
Highly proficient with JavaScript.
Proficient with SQL and relational databases.  Oracle preferred, but not required.
Demonstrable knowledge of software development best practices, including demonstrable practical experience in best-practices associated with software design, coding, debugging, testing and documentation.
Excellent written and verbal communication skills, including the ability to convey technical concepts clearly and effectively.
Proficient  with source control systems like SVN and Git.
Experience with agile methodology (SCRUM) .
Experience with Atlassian eco system of tools (example JIRA, Bitbucket, and Confluence) preferred but not required
Location
Columbia, South Carolina
If this could be of interest, please email me:
Larry Janis, janis@issg.net