As a part of our talent acquisition engagements, we ask our clients how they define "top talent" and how they would assess those traits in the interview process. Reflecting on the insightful comments we hear every day, we thought there would be great value in a new blog in which senior executives/thought leaders share their "Take on Talent."
This is the sixteenth in a series of blogs/interviews with senior executives who are thought leaders in the areas of Talent Acquisition, Career Development and Leadership who will share their perspectives on this ever present question.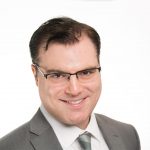 Phil Fersht is the CEO and Chief Analyst, HfS Research
Phil is an acclaimed author, analyst, and visionary in IT Services and BPO, the Digital Transformation of enterprise operations and cognitive automation strategies. Fersht coined the terms "The As-a-Service Economy" and "Digital OneOffice", which describe HfS Research's vision for the future of global operations and the impact of cognitive automation and disruptive digital business models. Phil was named Analyst of the Year in 2016 (see link) for the third time by the Institute of Industry Analyst Relations, which voted on 170 other leading IT industry analysts.
Prior to founding HfS in 2010, Phil has held various analyst roles for Gartner (AMR) and IDC and was BPO Marketplace leader for Deloitte Consulting across the United States, UK, and Singapore.  Over the past 20 years, Fersht has lived and worked in Europe, North-America, and Asia, where he has advised on hundreds of operations strategy, outsourcing, and global business services engagements.
Phil is also the author and creator of the most widely-read and acclaimed blog in the global services industry, entitled "Horses for Sources" now entering its eleventh year.  He regularly contributes to media such as Wall St Journal, Business Week, Economist, The Times of India and CIO Magazine and is a regular keynote speaker at major industry events, such as NASSCOM, ANDI, ABSL, Global Sourcing Association, SSON, Sourcing Interests Group and HfS Summits.
He received a Bachelor of Science, with Honors, in European Business and Technology from Coventry University, UK and a Diplôme Universitaire de Technologie in Business and Technology from the University of Grenoble, France. He also has a diploma from the Market Research Society in the UK.
Please share with us the top characteristics of the most talented people you have encountered during your career, and your definition of each.
Commitment
People need to love what they do at be grateful to be paid to do it.  They recognize that 40% of the job is sometimes mundane, but is worth it to enjoy the other 60%.  Passion and curiosity can only really be unleashed, where there is true longevity of commitment driving everything you do.  Be serious about your career, never go into a job half-hearted, otherwise you will never be fulfilled and your colleagues will know you aren't really there for the long haul.  People like people who demonstrate focus to their craft and have a career-long vision driving everything they do.  People talk about "lifestyle jobs" but those only work when you combine your career commitment with your personal commitments effectively.  "Lifestyle" is being motivated to do something long-term, not hedge your bets doing short-term projects and always be on the lookout for something else.  I hire people on their commitment to work in my industry, not just because they have an amazing CV.  It is down to me as a leader to make sure they have the right environment in my company to flourish.
Emotionally maturity
Such an important attribute today – being able to work in adverse, challenging climates and keep your composure, keep focused on the big picture, and achieving your goals.  Being respectful to others is everything, and being able to separate your personal feelings from your professional goals is vital – make sure you get the balance right with your professional relationships first, then often great personal relationships will follow in time.  My mantra is always to treat people how you like to be treated and eventually it all comes around to reward you.
Superior analytical skills
Absolutely massive to have these in my business.  You need to be able to connect together datapoints, apply your curiosity, passion and focus to reach conclusions.  You also need to collaborate to be truly affective as an analyst – the ability to glean insight from someone with years of experience is so valuable (and a great skill).  Relationship skills are a key piece of improving your analytics prowess.
Communication
The most successful people are the best communicators. Be clear about what you want and what you know and get it across to your colleagues and clients clearly and concisely.  Some people have made a living being complicated and unclear, but they rarely excel.  Never be afraid to explain the obvious and always assume stupidity in your audience!  People like people who express what they know, what they do and what they represent.  In my view, the most successful professional over the next decade, it today's social media world, are those who can articulate themselves effectively.
Competence
Never afraid to ask questions.  If they do not know something, then admit it, not pretend you do.   Some of the least competent people I have worked with are those who do not admit when they do not know something, and get caught out later.  Be honest about where you add value and where you need to learn and improve – I wish more people were more honest about that.
Creativity
I believe passion breeds creativity – and it is already buried in someone somewhere!  Creativity is what really inspires others.  Make sure you have quiet time during the week to free your mind to think, write, analyse and come up with ideas to inspire others.  Some of the most creative, inspirational people I know are not the most intelligent, but they are very good at communicating what they do with passion.
Curiosity
You can't survive without curiosity in any knowledge job in today's business environment.  However, curiosity needs depth, and I worry for people who flit around many topics, but never get deep in any.
Competitiveness
Goes without saying.  If you're not competitive, go work in a non-profit environment.  However, be respectful, as well as competitive – there is nothing worse than people who compete by backstabbing others.  Those are people I go out of my way to avoid.
Earnestness
The ability to have a consistent, credible view of the world and business, and hold up their views amidst scrutiny from others.  Great analysts defend their research based on their values, depth and experience and refuse to be biased by bullying. lobbying or threat of losing business.
Energy
Having that drive to work at a fast pace is crucial today, especially in the knowledge business. Energy also breeds energy from others and creates a culture of urgency, focus, passion and a shared enjoyment for what we do.
How do you communicate these characteristics to your HR and senior management team?
Only way is by leading through example and having honest reviews with your staff.  Never be afraid to be honest with staff you want to develop – I prefer to do that during regular intervals – a quarterly informal review is always good for measuring success and development.  The ability to challenge people is hard to develop and can take many years, but never be 100% satisfied with your people or your own work – you musty constantly strive to improve, no matter what.  A little fear and discomfort goes a long way to keeping the energy levels high and a culture of constant improvement.
How do you handle challenges to the existing culture by talent you have brought in?
The worst managers are those who always shower their people with praise, but regret it later when they do not see improvement.  Make sure your praise matters when it is warranted, and never be afraid to push people to be as successful as they can be.  If people constantly complain they have "too much work on" then ask why that is an issue – do they not enjoy it? I cannot remember a time I did not have too much work to do, but have always loved my work, so that is never a problem.
One more recent challenge I have seen in today's environment is when some people start to view their work like it was some sort of disease.  When that starts to happen you need to understand what is causing that.  Firms only succeed when their people are firing on full cylinders with energy, passion and focus.  The hard task for leaders is you need to be very in-tune with your people to understand who really wants to work in a high energy culture and who does not.  The old saying "it's what you do when the boss isn't looking" that is so apt in my book – if you have people who just pay you lip service, but simply do not have the desire to make your firm successful, then you need to transition them out.
Another challenge is to have conviction in your values and how you want to lead a team.  Some people will always been looking to try and influence you, give you feedback and advice, and that can be extremely valuable.  However, you have the energy and focus to get to the role you are in, so have faith in your beliefs and values that got you there.  Be very careful not to let people try and influence you in the wrong way – ask yourself why this person is doing this, and how successful have they been in their own career.
The reality is, very few people are going to pat you on the back as a boss and say "great job" – you normally only hear the negatives, and you mustn't let those get you down.  As a leader, you have to be the positive one, the passionate one, and one they all look up to, so keep constant faith in your convictions and keep doing what you think it right.  That doesn't mean to surround yourself with "yes people", as you do need honest folks around who will question your when a decision many not be the best one, and you do need people who can offer great feedback when it is warranted.  Ultimately, you want people you trust, who trust you and can work with your to articulate and execute your vision for the firm.