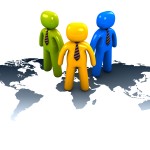 Sales Capture Lead-Applications Services

Location: West Coast – San Francisco, Los Angeles, Seattle
Work with companies in the consumer goods, retail, pharmaceutical, transportation, industrial, hospitality, and life sciences industries, industries creating shareholder value by proactively identifying and helping to drive market-making strategies and outsourcing arrangements.
Job Description:
Sales professionals are dedicated to growing a profitable pipeline and/or backlog of sales, through deal origination, sales negotiations and closure. They own the sales process and outcomes.
Sales Execution professionals involve multiple activities like target the right clients, grow quality pipeline, win profitable deals and manage sales activities with the objective of creating mutually beneficial, trust-based relationships that create value.
The Sales Capture Lead manages the opportunity sales pursuit and close opportunities using deep sales process and offering expertise. Develop and direct the sales efforts for new client target acquisition and/or direct the efforts to ensure execution of sales strategies geared toward protecting and growing business with existing clients.
Key Responsibilities:
Sales: Developing, Validating, qualifying, and closing Application Outsourcing opportunities to Products Industry companies.
Relationship Development: Develop and leverage existing relationships with potential buyers through personal meetings, presentations, speaking engagements, business networking, telephone calls, personal emails, personal mailings, business forums, direct marketing, and/or other business or social outings. When identifying new leads outside assigned target clients, work with appropriate parties to determine best Sales Leadership decision, transition lead to other party as appropriate.
Client Demand Stimulation and Opportunity Generation: Identify specific sales opportunities within existing and prospective clients. Work with client's team to determine requirements and/or specifications, build client value proposition and shape the deal; using appropriate sales processes and tools, determine and recommend through the appropriate New Business Meetings/forums which opportunities to pursue and obtain Business Development (BD) funding and support. Engage in activities focused at generating client awareness of the firm and/or demand for its Services (may include developing/sending promotional materials, presenting in business forums, charitable activities, business associations, etc.).
Sales Process Leadership: Lead Sales Process for specific approved opportunities, complying with internal sales stage entry/exit requirements. Working with Operating Group leadership, form and lead the opportunity pursuit team through the sales process, performing constant re-qualification of the opportunity while assuring adequate financial control of BD spend; Construct and execute opportunity plan, including win themes, win tactics & action plan, relationship plan, and price-to-win; Review solution plans, cost models and written proposals as appropriate to ensure alignment with sales strategy, win themes, and price-to-win; Establish and maintain qualified sales pipeline of a minimum of 3X annual sales target.
Basic Qualifications: 
Minimum of a Bachelor's degree
Minimum of 5 years experience selling deals operating at the C-Level  within the Industry Sectors served by the Products Operating Unit (Consumer Goods & Services; Retail;  Life Sciences; Automotive; Industrial Equipment; Infrastructure & Transportation Services; Air, Freight, Logistics & Travel Services)
Preferred Qualifications:
Experience selling large scale services to major public sector agencies; including developing and qualifying a pipeline of business
Global expertise and perspective
Exceptional oral and written communications skills
Excellent business acumen and industry acumen
Relationship building and influencing skills
If this is of interest to you or someone you may know please let me know
Larry Janis, janis@issg.net, 516-767-3030