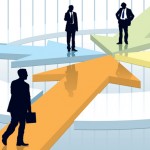 VP of Sales will be responsible to execute strategies for getting new logos and adding new clients to the portfolios to ensure growth and profitability of the accounts, effectively handhold manage client relationships at appropriate level, facilitate delivery in the account set up stage. Responsible for achieving the assigned annual revenue quota from new client's by actively managing the named accounts and managing revenue targets assigned.
Develop specific sales plans for each named account so they can maintain business and where possible increase the sales volume
Target giants to sell  full set of services
Work to increase revenue by identifying additional products to complement what is currently sold to the existing customer base
Drive to generate growth through new account penetration and referral and direct efforts towards building sales
Translate clients strategic requirements into enabled solutions to improve their business results
Work with others to achieve better results and forge close working relationships and alliances in order to get things done internally for the client
Need to have experience of handling multiple accounts
Be required to work with the Prospective/New Client Team to achieve revenue growth and profitability targets
Position our client as a strategic partner, trusted advisor and value-creator to clients
Stay on top of information needed by prospective customers in an effort to serve as a resource
Demonstrate patience and a willingness to repeat or reinforce ideas and information until the customer understands
Seek to provide an appropriate solution by understanding what the customer is trying to accomplish
Change the sales approach or solution to accommodate the customer versus force fit the customer to an existing model
Understand the financial impact of developments on the industry and company
Orchestrate services into solutions that meet client's business objectives, while delivering measurable results
Drive the creation and execution of new account plans
Work closely with Delivery teams to meet and exceed client expectations, and resolve relationship and/or operations issues in a timely manner for new clients
Collaborate with other CEs, Delivery Leaders and our clients Leaders to grow the overall portfolio
Participate in client visits, industry events, trade shows, conferences and/or other marketing events as necessary
Qualifications:
Effectively and proactively managed client's expectations, built deep client partnerships, and developed excellent communication and executive presence to connect at all levels in the organization.
Experience in mining long term complex multi-million dollar accounts, services or solutions and adding new accounts
Ability to communicate confidently at the C-level to build meaningful internal and external relationships.
Broad functional knowledge within the sector and able to connect with a variety of executive level stakeholders on their specific pain-points.
Strong sales process and operations skills (pipeline management, forecasting, budgeting, etc.)
Strategically minded and able to create a consultative and solution-minded sales environment.
A forward & innovative thinker constantly focused on shaping the organization to meet and anticipate both near and long-term business issues
Demonstrated ability to work in a multicultural global environment.
Key elements for the role:
Ability to multi-task
Cross Sell ability
Ability to work with multiple stakeholders
Persuasive skills
People management and leadership skills
Industry focus approach
Relationship management
Dedicated to achieving business results
Be a thought-leader
Education & Experience:
10-15 years of experience in sales and account management
Preferably experience in a similar vertical / domain/Industry
Location
If you are interested or know someone who might be, please let me know
Larry Janis
Managing Partner I Integrated Search Solutions Group
P-516-767-3030 I C-516-445-2377