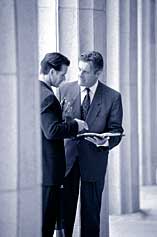 By Sarah K. White
Have you made any of these top resume mistakes? If so, take some time to revisit, review, and update your resume before you apply for your next job.
Writing a resume is not an easy task, no matter how long you've been in the game or how confident you are in your skills and experience. But there are steps you can take to make the process easier and turn your resume into a document that gets noticed for the right reasons.
If your resume isn't getting the attention you want, there's a good chance you've made at least one of these all-too-common mistakes.
1. Allowing inconsistencies
Even something as seemingly insignificant as your start dates not lining up correctly can raise a red flag for employers.
Review your resume to make sure that all the details match your other public profiles. For example, if you have certain dates for a job position on LinkedIn, make sure you have the same dates listed on your resume. The same goes with job titles, stick to your actual title and keep it consistent across all of your professional platforms. It's a small oversight that might signal to employers you aren't being entirely truthful on your resume or professional profiles.
Fix this mistake: Before you send out your resume, make sure all the information aligns with your LinkedIn profile and employment records.