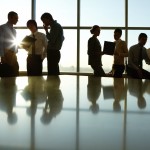 By William Arruda
I was moderating a panel on leadership for a client of mine and received the bios of the three very accomplished executive panelists. All three bios were simply a list of credentials— impressive credentials, but that was it.
There was nothing human. Nothing personal. Nothing that gave the audience any understanding of their thoughts on leadership or success. This robotic resume in prose form is all too common, and it erases our most valuable asset: our humanity. Especially in our digital world, being yourself—your unique, human self—gives you a distinctive competitive edge.
Yet somehow we have been led to believe that at work, we must diminish our humanity, behaving (and appearing) like robots who are prized for their automation and conformity. When we get to the office, we leave our true selves at the door, ramp up our "work" mindset and keep our human traits muzzled until we leave for the evening. The belief that we need to be as efficient as an LED bulb and as knowledgeable as Wikipedia, as productive as an assembly line and as human as a doorknob, might have worked in the industrial age, but we have been in the relationship economy for decades.
Today, we can't afford to forget the one ingredient that's essential for business success— humanity. After all, relationships are the currency of business. More than ever, business is a truly human endeavor. Continue reading →