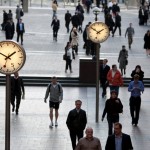 by Jonathan Thompson
We got experts to weigh-in on how classic personality traits translate to remote work.
The shift to remote work has given many of us a new perspective on how we do our jobs. Without the context of a shared workspace or the rhythm of a typical office day, our own personalities are having far more of a say in our performance.
It follows, then, that the best way to maximize our output in a WFH environment is to better know our personalities – and those of our dispersed colleagues.
An efficient (and intriguing) way to manage this personality wrangling is via the tried-and-tested Myers-Briggs Type Indicator (MBTI). Generally regarded as one of the most accurate personality tests out there, the MBTI is widely applied within the business world, with 89 of the Fortune 100 companies utilising it.
"The MBTI is deceptively simple, but it's also an extremely useful way to see how team members are inherently different, and how you can work together more successfully," says occupational psychologist John Hackston, Head of Thought Leadership at the Myers-Briggs Company. "It's a means to boost productivity in people, increasing their engagement and making them generally happier in their work."
In other words, the MBTI might just be the key to turning your remote team into a smooth autonomous unit.
The 16 personality types and their traits
Based on Carl Jung's Theory of Psychological Types, the MBTI is a self-reported personality survey that has been around in various shapes and forms since the 1940s. Respondents answer a series of simple questions about their feelings and preferences, eventually aligning with one of 16 personality types.
Each of these types is identified by four letters, starting with an E or an I (for extrovert/introvert) followed by S or N (sensibility/intuition), T or F (thinking/feeling), and finally a J or a P (judgment/perception). Each type also has a descriptor, e.g., "the analyst," to further characterize the personality type in action.
Once you know your team members' types, the thinking goes, you can better assign them to projects which match their preferences, proficiency, and proclivities. You can also communicate more effectively if you have a better idea of how people process information.
To get started, take the official Myers-Briggs test here (or try a similar free questionnaire, recommended by psychologists here), then check out our expert guidance below on how to work with each personality type. Continue reading →