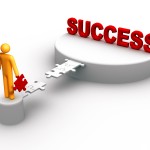 by Jason Nazar
In Comparably's ongoing series in partnership with Entrepreneur, If I Knew Then: Leadership Lessons, I host virtual fireside chats with high-profile CEOs of major brands from, Nextdoor and Blue Apron, to Waze and Warby Parker. As the host, I ask talented leaders to share some of the valuable lessons and practical career advice they learned during their career trajectory. These rare, candid insights into the lives of remarkable catalysts for success in the business world are accessible as a resource of inspiration for current and future entrepreneurs and are not to be missed. When CEOs get transparent, you can't help but lean in.
For the latest episode, I sat down with Dan Springer, CEO of DocuSign, who leads thousands of employees globally, allowing DocuSign to modernize organizations by making every agreement 100 percent digital. Driving innovation and growth in technology and the Software-as-a-Service (SaaS) industry exemplifies Springer's executive leadership and experience for the past 25 years. Prior to DocuSign, the Harvard MBA graduate served as chairman and CEO at Responsys for a decade, where he revolutionized and grew the business from a private startup to a leading cross-channel global marketing automation platform — resulting in Oracle's $1.6 billion purchase of Responsys in 2013.
As a veteran of Silicon Valley, Springer holds honors as both the Bay Area's Most Admired CEO and Best CEO. He is also a 2020 recipient of the Robert F. Kennedy Human Rights Ripple of Hope Award, sharing this accolade alongside top U.S. infectious disease expert, Dr. Anthony Fauci, as well as San Francisco 49ers Colin Kaepernick, for his leadership on social change during these trying times. Barack Obama, Hillary Clinton, Bono, and the late Representative John Lewis have also received this award, catapulting Springer into the company of greatness.
Among other topics, this conversation covers Springer's origin story — from "winning the ovarian lottery" to attending the famous Lakeside High School with alumni such as Bill Gates and Paul Allen — laying the foundation for his early life before becoming a serial entrepreneur. Here are the 12 essential takeaways from our chat:
1. Successful business leaders don't all come from the same mold 
Everyone has a different background and path in life; use that to propel you forward. Springer shares that he grew up with a single mom in an affluent suburb, which might have given him a chip on his shoulder in the early part of his career at McKinsey. However, he turned that initial insecurity into something positive by excelling and overachieving. Continue reading →