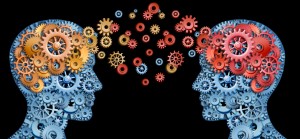 BY MARIANNE LEWIS AND WENDY SMITH
Management professors share a detailed example of adopting 'both/and thinking' to move beyond a simple yet often destructive formula and develop more creative and productive solutions. 
While we want the best of home and work, too often we end up with the worst of both. Employees show up at the office for a scheduled number of days only to find a ghost town. They commute long distances to spend their time alone and on Zoom calls. Likewise, work-from-home days can feel robotic and blur the lines between work and life. Without clear boundaries, work takes over home, and high-performing employees can burn out.
Having studied what we call "both/and thinking" for the last 25 years, we know there's a better approach. Rather than bland compromises that become worse for everyone, both/and thinking enables creative integrations in which each option benefits the other.
Joe Lemay (CEO) and Jacob Epstein (CIO) knew that they wanted this kind of integration when they launched Rocketbook (now a subsidiary of BIC). The Rocketbook team is on a mission to transition the world to reusable paper. They know that serving their customers and the world best means having exceptionally talented, high-performing, energized, and committed people. They also know that the where as well as the how and why of work matters. In fact, their hybrid approaches started well before the COVID-19 pandemic.