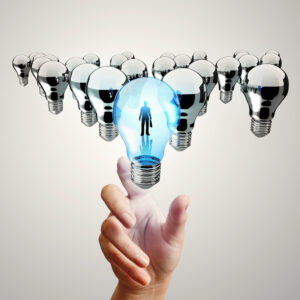 If organizations ignore 
employee reskilling
, they are making themselves vulnerable to their competition, analyst and 
HRE
 columnist 
Josh Bersin
 in a recent 
HRE
 webinar entitled, "Understanding Talent Intelligence: Why Traditional Concepts of Talent Management No Longer Work."
The key to creating useful talent intelligence, as Bersin defines it, is the ability to gather "internal and external data into a useful tool that empowers planning and business growth." In terms of employee skills, these tools can help HR leaders assess the skills that employees possess currently and will need in the future. HR leaders also need to know what skills are in demand in the outside job market to help with recruitment and employee retention efforts in a competitive job market.
"HR needs to create a company that allows people to transform themselves without waiting for them to tell you what they want to do," Bersin said during the webinar, which was sponsored by Eightfold.ai.
It is often easier and less expensive for an organization to upskill a current employee than to hire a new employee with those skills, Bersin said. However, reskilling also is more than improving performance and making people happy with their jobs.
"It's about your company surviving," he said.
In his research, Bersin explained that the talent intelligence layer is a "system of record" of employee skills. It helps HR leaders to manage confusing and conflicting skills taxonomies that occur when businesses define skills by different names. This layer often resides above Core HR tasks and the job architecture and organization structure layer in the back office.
The talent intelligence layer "is dynamic and you need to improve it all the time," he said.
Powered by data and AI tools, this talent intelligence layer often requires tremendous amounts of data from multiple sources, such as recruitment, onboarding and performance review data. This is where solutions like Eightfold's come into play, he said.
Talent intelligence can help transform even the largest and most tradition-bound of companies. JPMorgan Chase, for example, is spending $1.5 billion to reskill its IT department in order to build the capability it needs to compete in the fields of crypto, cyber and digital banking. Chevon is deploying talent intelligence to fortify its research into hydrogen-based energy sources, and Ford Motor Company is using upskilling and business intelligence to drive its conversion of fossil fuel automobiles into electric vehicles.
Talent intelligence can also point out why teams are struggling and help explain an exodus of valuable talent, Bersin said.
If a technology company is experiencing a shortage of engineers, for example, pay inequities or employee management shortcomings could be the cause. "Or maybe you need to hire people from outside and give them an avenue to greater career development so they don't leave right after being hired," said Bersin.
HR and business leaders need intel and data to predict what will happen in a business's near future in order to set goals and respond to changes in the landscape. "You need to be able to migrate workers into those areas of business opportunity in more deterministic ways," said Bersin.
This doesn't require HR leaders to transform themselves into data scientists necessarily, but they must be able to collect and analyze data.
"The HR role has radically changed and it is a profession that is not standing still," said Bersin.
He added, "You have to use this information to invent what will help your company."
Source:  HR Executive